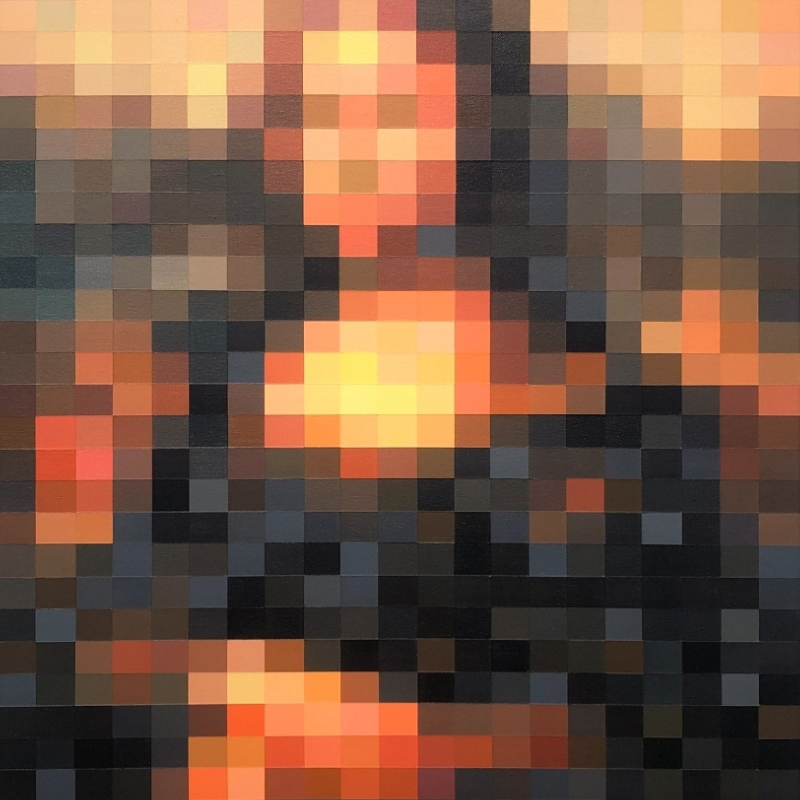 Marie KVK is an international artist born in Minneapolis, USA in 1980.  She officially started her painting career in New York City in 2004 after completing four years of university in Minneapolis, USA and Madrid, Spain in 2002.  The artist has crisscrossed the globe and worked for extensive lengths of time in the urban environments of New York (2004-2009), Paris (2009-2010) and London (2010-2014).  Since 2014, her painting studio, Atelier Marie KVK, is located in Provence, France where she lives with her family.
The paintings of Marie KVK are painted 100% by hand.  They are ultra contemporary and exquisitely finished on the highest quality canvases.  Working full time, she normally produces about 50 per year.  They are ready to hang either framed or unframed (and sometimes double framed like the Mona Lisa Louvre pieces).
The PIXELS series focuses on strong, beautiful women, both real and fictional.  These include the icons of the past and present, gorgeous instagram girls, cartoon characters and of course the most popular of her paintings, the Mona Lisa in PIXELS which are in very limited series, all painted individually by hand and all unique.  Marie KVK's painting reveal the most simple modern element, the PIXEL, which can hold a suggestion of a deeper discovery, or the obscurity of detail.  The very similar, but completely abstract series, VALENTINA, is a joyous series about color and balance.   The VALENTINA paintings can be found at Roche Bobois stores around the world.